285
Saletto elementary school cafeteria
Largo Leonardo da Vinci, 50 – Saletto di Vigodarzere (PD)
Property: Vigodarzere municipality.
Maintenance work for reduction of reverberation effects.
Year: 2017.
Client: Vigodarzere municipality (PD).
The G. Marconi Elementary School cafeteria, at Saletto di Vigodarzere, in the province of Padova is one of the reverberation effect reduction projects which make use of sound reduction products. It is a dining hall area, nearly 700m³ (approx. 159m² x h. 5.75m) in volume. Being used as an elementary school cafeteria, the client's requirement was to reduce the duration time of reverberation effects, which would rid the area of the unpleasant and annoying din which was becoming ever harder to bear for students and school staff.

The project, completed in spring 2017, required supply and installation of 53 PHONOLOOK Solution sound absorption panels 120cm x 120cm x 5cm in size, in yellow and deep red.

Steel cabling was used for hanging the panels from the ceiling, along with an innovative hooking system with automatic locking, for easy adjustment of cable length.
The results were excellent. As shown in the following graph, reverberation in the 1000 Hz range was 0.85s, down from 2.34s; a significant reduction of over 65%, thus falling within UNI 11367 regulatory standards.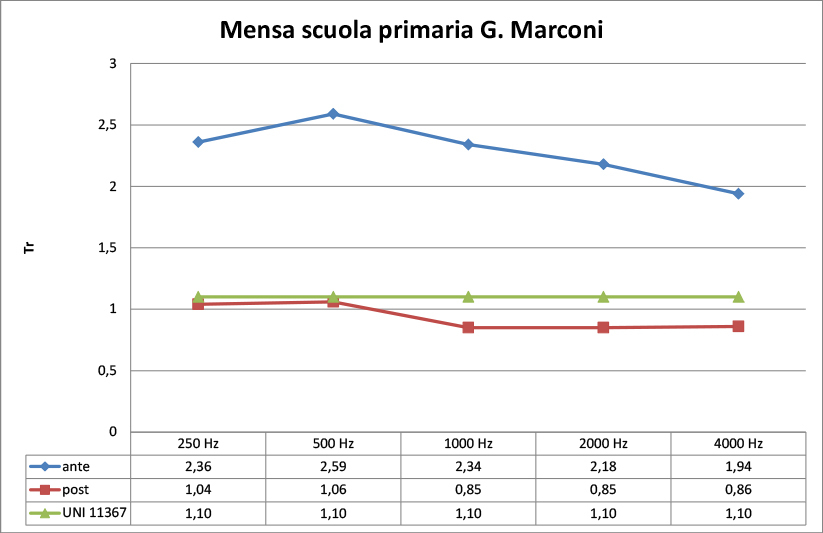 Photograph of installation