REQUEST INFORMATION
Ask for information now. You we'll be contacted by an our appointe near to you.
CABLES KIT IN PLASTIC-COATED STEEL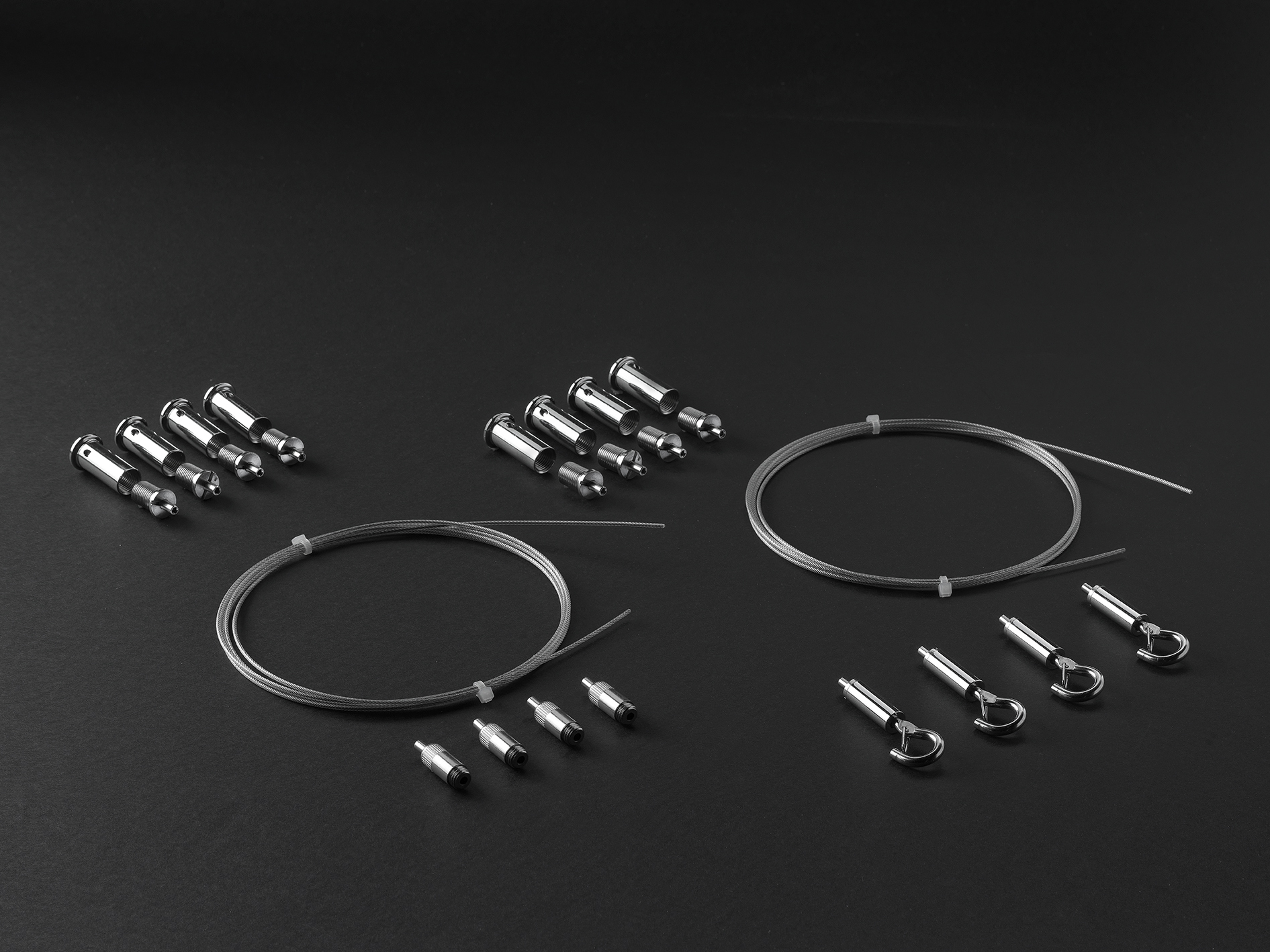 The fixing KIT with plastic-coated steel cables is ideal in case you want to suspend PHONOLOOK panels from the ceiling.
This solution, which is traditionally the most used, is also the most indicated from an acoustic point of view: in fact the suspension of the panels between 15 cm and 45 cm from the ceiling ensures sound absorption on both sides, increasing the sound absorbing surface useful for reverberation reduction.
The main components of the KIT are: the cylindrical rosettes and threaded cylindrical clamps, necessary for affixing to the ceiling, the plastic-coated steel cable, 2 meters long and cut to size, the "L" brackets, fixed to the panel during production in the number suitable for the type of panel, the clamps with snap hook, for hooking the panel by means of special holes on the back side of the "L" brackets or directly on the metal perimeter frame - for panels of the Phonolook Solution lines and Phonolook 3D.
For panels of the Phonolook Design line instead, the clamps with snap hooks are replaced by threaded clamps to be screwed into the corresponding holes provided on one of the panel faces.
The KIT is available in three versions - for 3, 4 or 6 suspension points - depending on the shape and type of panel to be suspended, and the relative number of different variable components.
Thanks to the plastic cable cover in steel, the final customer has the possibility of cut it to size during installation, thus being able to install the different panels PHONOLOOK at different heights and with different angles of inclination, in total freedom.
Request more info about the product: CABLES KIT IN PLASTIC-COATED STEEL