426
Location: via Terraglione 36 – Terraglione, Vigodarzere (PD)
Year: 2018
Client: Vigodarzere Municipality (PD)
As part of the important initiative to improve acoustic levels of comfort in school buildings, which the Vigodarzere municipality has undertaken, there was the conclusion of work to reduce levels of noise reverberation in the atrium and cafeteria of the Savio elementary school in Terraglione. The layout of the areas are around 70m2 (height: 3.00m) for the cafeteria and 118m2 for the atrium (maximum height: 6.30m).
Prior to the work, the areas involved had a marked issue with heavy noise reverberation, heavy enough to make it difficult to enjoy staying in the cafeteria and making recreation time in the atrium annoying. The level of discomfort was verified by the difference in noise measurements taken before the work, and noise reverberation levels recommended by UNI 11367 regulations, shown below.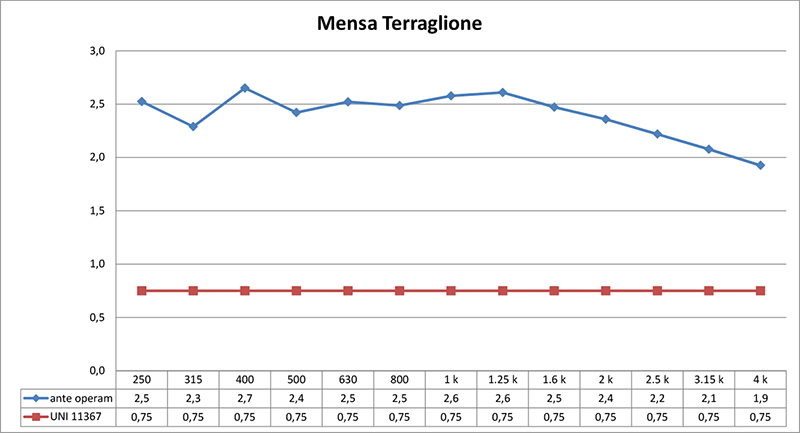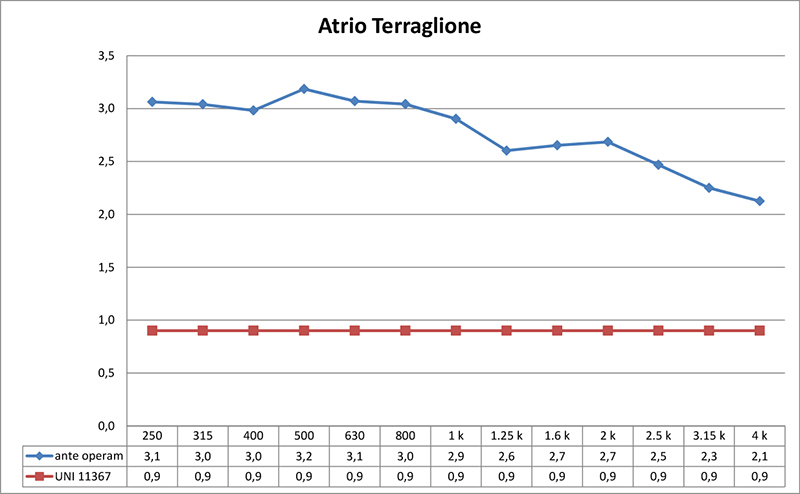 Following these results, an acoustic project took place which determined the best course of action to resolve the reported issue.
Specifically, the work consisted of installing 70 PHONOLOOK SOLUTION panels (50mm thickness) to the cafeteria's roof and 50 of the same panels to the atrium ceiling.
PHONOLOOK 120cm x 120cm were the most cost effective with respect to performance levels. More specifically, this work saw the use of innovative suspension systems for the first time, involving stainless steel cabling attached to the panels with adjustable hooks: allowing for easy adjustments to be made to hanging levels at the time of installation, and thus avoiding the need to determine the length of each cable at the planning stage. This system was implemented for the first time in order to adjust cable lengths to compensate for the angle of the sloping roof. On the roof side, cables were attached to cavity ceiling anchors inserted to the roof and covered with conical chrome caps.
The school staff quickly started reporting superbly comfortable noise levels which will be verified by testing to be carried out by an independent acoustics expert commissioned by the municipal administration. The results will be published as soon as they are available.